Offering Art Investment Opportunities
Unlock art's investment potential  with carefully curated, high-quality artworks. Our expertise ensures a diverse range of investment-grade art by Andy Warhol, Banksy, Pablo Picasso, Keith Haring. Lucien Freud, Francis Bacon, Wassily Kandinksy, Lucio Fontana, Claude Monet, Damien Hirst, Bridget Riley, David Hockney and many more.
Unparalleled Personalised Service
Discover exceptional investment opportunities with a focus on transparency and a unmatched service. Stay informed throughout the process as our experts provide personalised guidance, leveraging their deep industry expertise to navigate the art market confidently on your behalf and offer works catered to your preferences.
Building an Art Investment Portfolio
We specialise in helping you create an extraordinary collection, curated to reflect your unique preferences and vision. We offer opportunities supported by extensive research, due diligence checks, and curation. Trust us as your go-to resource for combining aesthetic value and investments in the art market with a personal touch.
Why Invest with Ransom Art?
We provide expert guidance and representation to our clients, assisting them in curating exceptional art collections. Whether you are interested in selling or acquiring art, we represent your best interests through collaborations with independent experts and renowned Auction Houses, operating on a commission fee basis. When the time comes to sell, our dedicated team will offer efficient and effective routes to the market.
We invite you to embrace the joy of collecting by receiving your artwork and savoring the value it adds to your home or office. Rest assured, we will handle the delivery with care, providing shipping to your desired location. If needed, we can also arrange secure storage for your artwork as well as installation. Let us take care of the logistics while you relish the pleasure of showcasing your investment.
At Ransom Art Advisory, our acquisitions team possesses unparalleled expertise and extensive connections within the contemporary art world. With their unwavering commitment, they have forged exceptional access, ensuring unmatched opportunities for sourcing investment-grade artwork of the utmost quality. Trust our team's passion and expertise to navigate the art landscape and secure the finest art investments for our valued clients.
Art, a transformative and lucrative investment, offers patient investors with a long-term outlook of ten years or more an excellent opportunity. Original, one-of-a-kind artworks, such as paintings, are recommended by experts for their potential to appreciate in value. Buying directly from galleries or artists in the primary market allows buyers to benefit from the artwork's uniqueness and the growing popularity of its creator. Many art investors include paintings in their estate planning, as these reliable assets can be passed down to future generations.
While the entry point for original art can be high, limited edition prints from blue-chip artists provide an alternative investment option, and Ransom Art boasts an extensive range. Art's remarkable ability to reshape our thoughts and emotions is complemented by its financial rewards. With a thriving global marketplace valued at $1.7 trillion, art consistently outperforms other asset classes, providing stable returns and acting as a hedge during times of financial turbulence.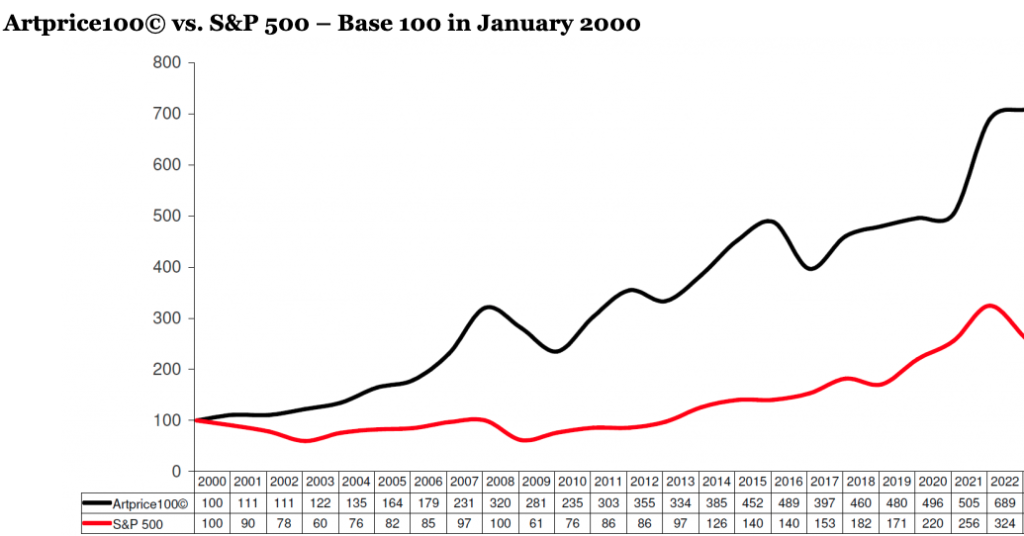 CONTEMPORARY ART HAS OUTPERFORMED THE FTSE 100 BY 407% BETWEEN JANUARY 1ST 2000 TO DECEMBER 31ST 2022
Artprice Report 2022 vs. FTSE 100 Index 2000-2022
85% OF WEALTH MANAGERS RECOMMENDED INCLUDING ART IN A BALANCE INVESTMENT PORTFOLIO.
Deloitte Art & Finance Report
THE AVERAGE PRICE OF CONTEMPORARY WORK SOLD AT AUCTION IN 2022 INCREASED BY 42.7% COMPARED TO THE PREVIOUS YEAR.